Facebook
. I'm an
angel investor
and sometimes
speak
about innovation.
Saturday, May 19, 2012
No posts in 18 months. Apparently I've been busy. Should get back to work now.
Sunday, December 26, 2010
It's grading time, again! Time to look back on my 2010 predictions from a year ago.
1) A major telecommunications company will recognize the competitive threat posed by Google Voice and begin offering "voice is free" as a method to gain customers and transition into more profitable data services.
Singtel made a big move in this direction, including free incoming calls to prepaid cell phones. They're the only one, as far as I can tell, so going to score this as 1/2 correct.
1/2 out of 1
2) At least one of the ineffective, post-9/11 airport security theater provisions is rolled back.
Ug. Couldn't have been more wrong about this. Despite backlash from Europe and the backscatter debacle, groping was full speed ahead at US airports. Happy to not be traveling these days.
1/2 out of 2
3) The current crop of social games will go the way of the original wave of Zombies and Vampires as players tire of the repetitive gameplay and friends start a backlash — again, exactly as we saw with Zombies and Vampires. The winning social game companies will be those which pivot dramatically.
Since I'm now at Facebook, not going to grade this one.
4) Apple releases a tablet and moves computing onto a 4th screen, adding a new form factor to their existing complement of full screen (desktop/laptop), handheld (iPhone), and living room (Mac Mini/MacTV). It will be incredibly fun to use for the range of activities currently least served by current screens — movies, reading, browsing/social media on the run, and video/text chat. It will bring at least one new UX tech to the party to help make it the "ZOMG,

WANT

!!" product of 2010 — for example, front facing 3D camera for gestural control without touching the screen.
Yup, Apple released a tablet that was incredibly fun to use, but they did it simply by executing really well, not through any magic. Miss.
Predictions looking pretty brutal this year.
1/2 out of 3
5) The 2010 midterm elections will see a degree of negative campaigning and hate mongering the likes of which the United States has never seen. It will be so bad that political and media leaders from both parties will finally remember that the point of politics is not to win but to effectively govern.
Again, think I got this one half right, but the wrong half. On the plus side, Congress seemed to pull up from the abyss a bit at the end of the year, with sanity restored around New START and Don't Ask, Don't Tell. Still calling it a miss.
1/2 out of 4
6) Amazon responds to the gaggle of competing copycat ebook readers by turning Kindle into a full fledged book platform: author choice on

DRM

, p2p sharing, and loaning; community elements for book recommendations, annotations, and ranking; and, user-generated book metadata for series and sequels, to allow author and series subscription for automatic delivery of new books.
Amazon did a lot to make Kindle more social in 2010. Don't think they're done yet, but Kindle's cross platform availability, social functions, gifting, and loans are huge additions to the service. FInally got anther one right!
1 and 1/2 out of 5
7) Backlash against the world's biggest banks and their windfall profits will contribute to the emergence of new regional, community, and online banking options.
Tons of startup innovation happening in the banking space, many positioning themselves directly against big, old banks. Unfortunately, none have actually emerged as viable options yet, so I'm correct but early. Gonna score this 1/2 right.
2 out of 6
8) The threat of Three Strike's coming to the United States via

ACTA

will generate a grassroots debate about the merits of Obama administration's IP maximalist strategy.
The debate is happening. Sadly, I don't see it making a ton of progress, but at least the debate is underway.
3 out of 7
9) Heath care reform makes it through the committee reconciliation process and passes despite complaints from all sides.
Nailed this one. Particularly the complaints from all sides.
4 out of 8.
10) I will be back at work full-time on something seriously cool.
Apparently when I said full-time, I meant it!
5 out of 9
So, .556 for '10. Saved by the bottom half of the order. Stand by for fearless predictions for 2011!
Saturday, November 27, 2010
Thanksgiving is my favorite holiday of the year. Friends, cooking, board games, it's all good. This year the party spilled over into a separate event on Friday, which was great fun. I decided to try and reproduce maple-glazed, apple bacon doughnuts from Dynamo Doughnuts, which I've never had but had seen on an episode of The Best Thing I Ever Ate. Did we succeed?
Oh yes.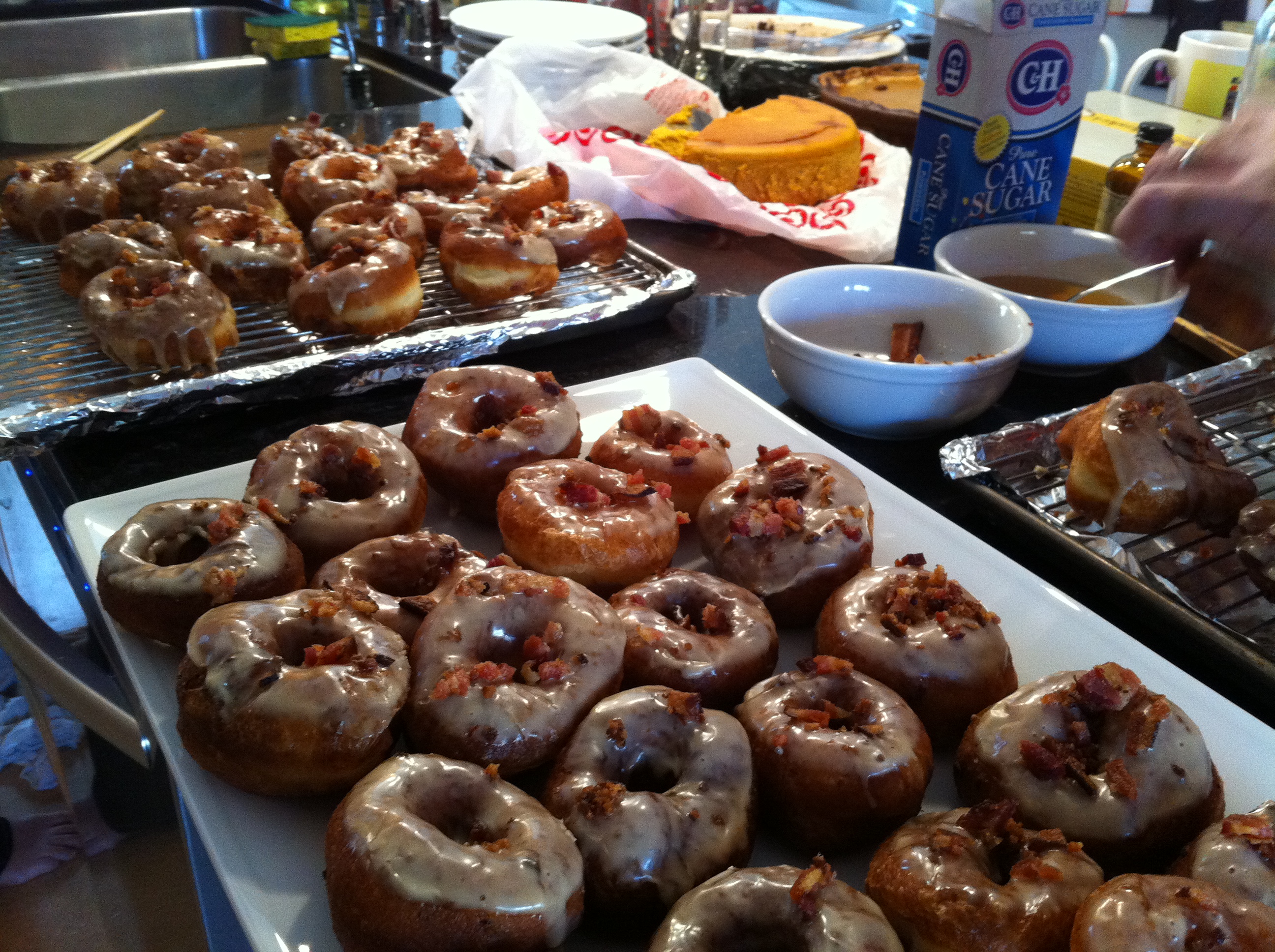 Several folks asked for the recipe, so here it is.
Maple-Glazed, Apple Bacon Doughnuts
(Adapted from Alton Brown's Yeast Doughnuts)
For the doughnuts
1 1/4 cup milk
2 tablespoons apple juice
2.5 oz shortening
2 packages instant yeast
1/3 cup warm water
2 eggs
1/4 cup sugar
1 1/2 teaspoons salt
1 teaspoon freshly ground nutmeg
23 oz all purpose flour, plus extra for dusting
2 medium apples (gala or fuji)
1 lb bacon
1/2 – 1 gallons peanut oil
For the glaze
3 cups powdered sugar
4 tablespoons of maple syrup
2 tablespoons of vanilla extract
(Will make approximately 50 doughnuts)
Preheat oven to 400 degrees. Place bacon a rack inside a foil-lined half sheet pan. Cook bacon for 15-20 minutes, until crisp. Reserve rendered bacon fat. When bacon has cooled a bit, dice bacon and split in half.
Warm milk in sauce pan until hot enough to melt shortening. Pour milk over shortening and stir until combined.
Place yeast in warm water for 5 minutes.
Peel and finely dice apples. Place 1 tablespoon of reserved bacon fat into a frying pan and saute apples over medium heat. Keep diced apples moving constantly until they give up some liquid and pick up a hint of color, about 5 minutes. Remove apples and any remaining bacon fat from pan and add to milk/shortening mixture along with 1 tablespoon of reserved bacon fat.
Lightly beat eggs.
Combine water/yeast, apple juice, eggs, nutmeg, milk/shortening/apple mixture, nutmeg, sugar, salt, half the bacon, and half the flower in the bowl of a stand mixer with paddle attachment. Mix on slow speed until flour is incorporated, then increase speed to medium. When well mixed, stop mixer and add remaining flour. Again, slowly increase speed until well mixed. It will be very sticky.
Switch to dough hook and mix on medium until dough pulls away from the sides of the bowl and forms a shiny ball. Move the sticky, elastic dough to a bowl and allow it to rise for one hour, until it has doubled in size.
Dump dough out onto well floured surface. Flour your hand and gently flatten dough until 3/4" thick. Flour a 2" and 1" biscuit cutter. Carefully cut out 2" disks and move to wax paper, the use the smaller cutter to cut out the holes. When done, cover with more wax paper and allow to rise for another 30 minutes.
In a heavy stock pot, add enough peanut oil to fill to 2-3" deep and heat to 365 degrees.
Prepare the glaze by whisking together the powdered sugar, maple syrup, vanilla, and 6 tablespoons of reserved bacon fat.
Working in batches of 4-6 doughnuts, fry doughnuts until golden brown and delicious on both sides, about 1 minute per side, using chop sticks to gently flip the doughnuts. When done, transfer to cooling rack and let cool for about a minute before dipping in glaze. Return to cooling rack and sprinkle with bacon from the other half you reserved.
(This works best with two people, one frying, one glazing.)
The most difficult bit will be giving the glaze about 5 minutes to set up. Doughnuts will still be warm and delicious!
Tuesday, November 16, 2010
Sometimes changes come quickly. My blog has been quiet because I've been hard at work on the startup I co-founded with my brilliant friend Bruce Rogers . I would have expected this post to be talking about what we built, but for obvious reasons we're posting something a bit different:
After years of working parallel careers and constantly trying to hire each other, we decided the only way to work together would be to co-found something.
And, so, Walletin was born.
After six months of hard work, we knew we had something awesome. Our friends are the most intelligent and cynical developers in the Valley and even they thought it was cool.
(Some of them may also be great liars.)
We were ready for beta. Hell, we were ready for a "Rate my Startup" post on Hacker News.
During development, we got calls from friends at big Silicon Valley companies. We took those meetings because they came with free lunch, great conversations, and Walletin Global HQ doesn't have air conditioning. We came away smarter for the discussions, but decided it was more fun to keep doing our own thing.
When we met with Facebook, we expected the same result.
Instead we met our people. Engineers focused on getting shit done. Moreover they recognized the disruption we were betting on and saw how far we could run with it at Facebook.
And they moved like they were still a startup.
For our part, the more we learned about Facebook, the more we saw our ideas fitting in. The more we saw an opportunity exciting enough to abandon Walletin Corporate HQ and go into work every day.
Ultimately, it was an easy decision and we will both be joining Facebook.
It is with a bit of sadness that we bid a fond farewell to Walletin, but are thrilled by what we're going to do next.
It's going to be fun.
- Bruce and Cory
Thursday, July 22, 2010
This was a fun talk to put together. Thank you to Wharton for the chance to speak and great engagement from the audience!